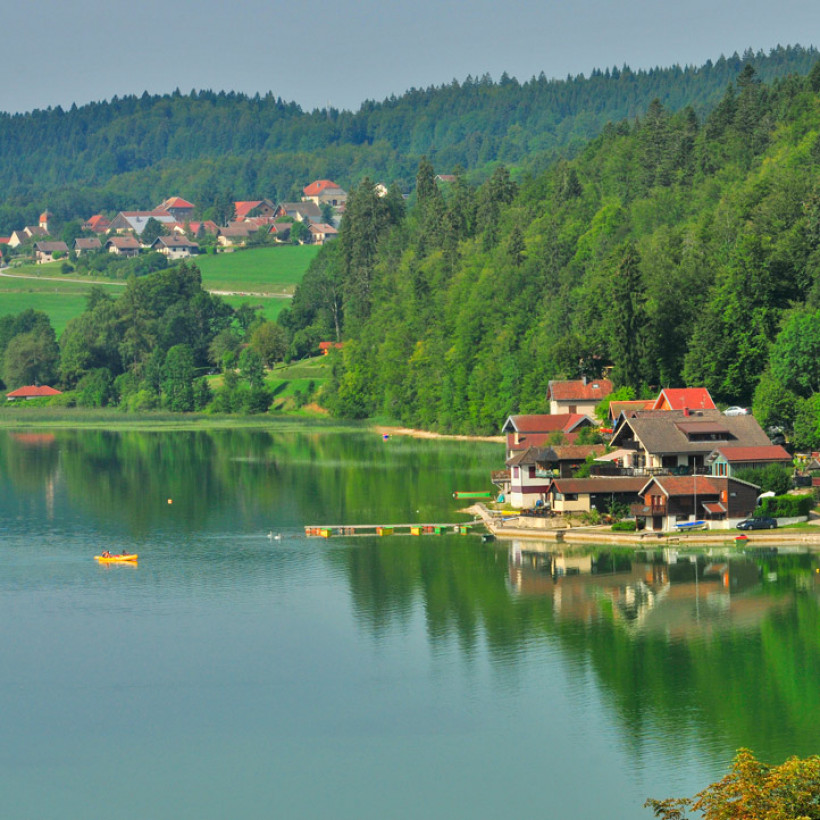 Things to do in Jura
The Jura region of France is characterized by sub-Alpine mountains, pine forests, high pastures and great natural beauty. There are plenty of things to do in terms of both outdoor and indoor activities, summer and winter holidays alike. The area boasts many lakes, including the third-largest in France, and even bigger bodies of water on the other side of the Swiss border. As a result, water sports are a big part of the tourist scene in summer, whilst winter sports are obviously important as soon as the snow starts to come in.
How do you get to Jura, France?
The Jura is found in the far east of France, next to the frontier with Switzerland. The nearest train station to Azureva's Metabief resort is Vallorbe, from where you can catch a bus to the village of Métabief. After here, it's a half-mile walk to this resort. Coming from Paris by car, you'll need to take the A6 or A5 motorways, depending on your exact departure point. From Calais, the route is via the A26 motorway.
A quicker and easier option would be to fly into either Lyon or Geneva airports. The journey by car to the resort from these airports is 2 hours 30 minutes and 1 hour 15 minutes respectively.
What is Jura famous for?
The Jura is probably best-known for its rugged landscapes – in fact, it's the limestone rocks that compose this area that inspired a French geologist to give the name 'Jurassic' to a geological period. These can be enjoyed from an extensive network of paths that includes the GR9, GR5, Chemin des Crêtes and the 'Grande Traversée du Jura'. The latter is designed to cater to walkers, horse-riders, mountain-bikers, road cyclists and cross-country skiers, answering the 'what to do on my holidays?' question all by itself.
Holiday resorts in France for families often offer extra advantages to their guests, such as access to local guides, guest passes which provide discounts at local tourist attractions and organized day trips. If you've chosen half- or full-board accommodation, then you may also have the chance to try out some of the region's culinary specialities, which range from Morteau sausages, Comté fondu, toasted bread with morel mushrooms and 'coq au vin jaune' (chicken in the local 'yellow wine'). The area's other major wine has to be Vin de Paille ('Straw wine'), a sweet white wine that is probably the region's most celebrated. It derives its name from the traditional method of drying the grapes out, which involves placing them on straw mats for up to three months.
The region's limestone rocks are also riddled with caves, giving ample opportunities for amateur speleologists. Other outdoor things to be enjoyed by people on their holidays in the area include swimming, sailing or windsurfing on the massive Lac de Saint-Point. In the wintertime, the lake frequently freezes over and people have been known to ice-skate here!
Of course, the main reason for people to visit the region in the winter is for skiing, rather than skating. In fact, if you're looking for a winter holidays rental in France, the Azureva resort near Métabief is very close to one of the biggest ski resorts in the Jura, boasting 40km of downhill slopes and 150km of cross-country skiing trails. Other winter activities include dog sledding and ski joering.  Additional services offered by the resort include kids' clubs, a gym, evening entertainment and a sauna!
In the event that the Métabief resort is full up and you're not sure what to do, why not check out our La Clusaz accommodation, available both in the summer and the winter?
Where are the Jura mountains in France?
You'll find the Jura mountains in the centre-east of France, just next to the border with Switzerland. If you need any more information about how to get here or what services are offered by our resorts and can't see what you need on our website, feel free to get in touch by telephone 04 74 32 74 63 or email: [email protected].
Find out all
about Azureva