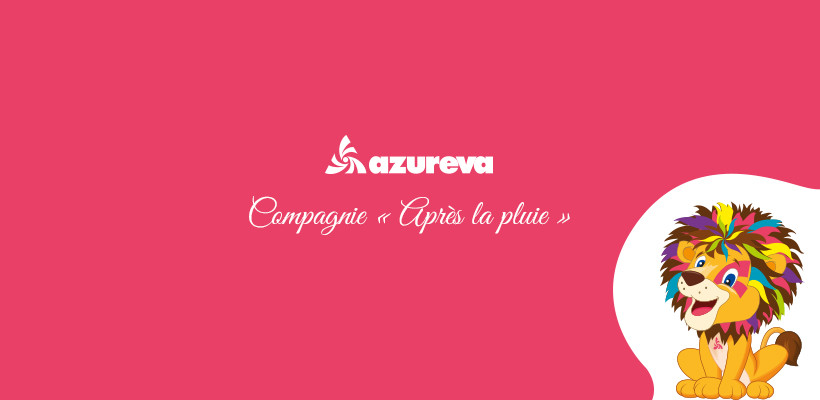 Azureva partner
of the company "Après la Pluie"
Go to the French website to see actualities
And you ?
The purpose of the "Après la Pluie" Company is to create, produce and broadcast live shows for hospitalized children with cancer.

The company "Words to conquer evils"
Their cause: to improve the daily life of children with cancer and that of their families.
Association created in 2006 by Cathy DARIETTO to support children with cancer through artistic achievements and production of shows in hospitals.
Since 2009, "Après la Pluie" Company has been running the "Tell Tale!" Workshops. "With children with cancer and hospitalized in the pediatric hematooncology department of La Timone, in Marseille.
Through readings and writings of tales, poems and songs, these workshops offer children the opportunity to collaborate in a process of artistic creation from its beginnings to its completion.
The texts thus invented are illustrated by professionals and published each year in CD-books. These books, concrete testimonies of their own artistic career, are offered to all the children in the department, as well as to hospital staff.
Since 2014, the Company has been crisscrossing the country to offer other hospitalized children books published each year and shows such as "Au coeur de nos rêve" or "Histoires Vagabondes", born from tales imagined by the little writers of the Timone. These tours respond to a desire to share and to spread these stories full of life and hope in all the CHUs in France.
"Whirlwind of emotions" show: First performance within the framework of our partnership, at the Azureva Baie de La Baule-Pornichet Theme Village, on Friday July 19
In the continuity of the writing work carried out in 2018 on the theme of feelings with the children of the hemato-oncology department of the Timone, the project continues throughout 2019, with the creation of "Tourbillon of emotions », Musical cabaret, first part of a diptych, which will give birth in a second time to the musical" The round of feelings ". This work in two parts, separate and at the same time inseparable, form two complementary paintings in the field of emotions.
Find out all
about Azureva