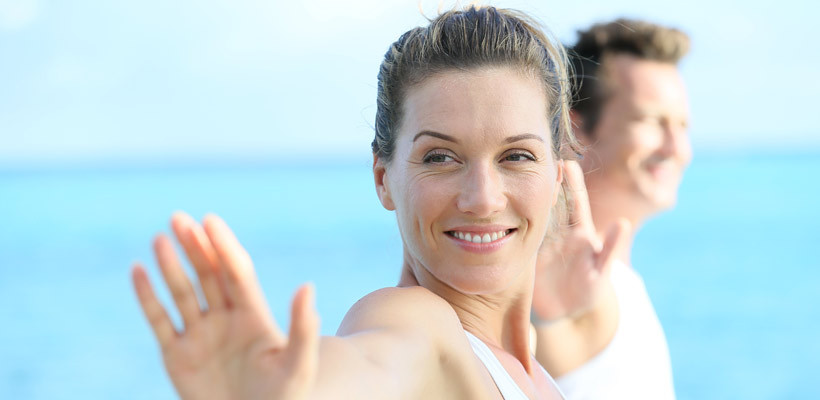 Wellness and Thalasso Holiday
Discover all year round our villages and residences Thalassotherapy and wellness
Discover our Thalasso and Well-being Holiday Villages and Self-Catering Resorts all year round.
Feel like a well-being break? Our Holiday Villages and some of our Self-Catering Resorts offer spa and well-being packages, in partnership with high-class thalassotherapy centres.
Choose your Azureva destination: Ocean, Mountain or Country. Then put together your well-being holiday!
Holiday village spa resort in France
The one-week Thalasso Treatment Course is an ideal way to recharge your batteries. The Thalasso Short Break and Thalasso Weekend are perfect if you need to take a break and let go for a while. After a few relaxing, regenerative massages, treatments or exotic sensory experiences, there will be no stopping you! Family holidays are good – but you're entitled to a well-being break to give yourself a bit of pampering too!

Azureva Well-being:
Look after yourself and your body! In partnership with well-known spa centres, Azureva introduces you to the benefits of thalassotherapy. Discover a universe devoted to well-being and serenity, with programmes hand-picked exclusively for our customers. A serene, natural atmosphere ideal for revitalisation.

Our local partners are located close to our Club Villages and Self-Catering Resorts, and all have a very good reputation.

- Azureva reserves the rights to cancel these holidays.
- Themed holiday prices do not include Azureva accommodation, in full board, half board or holiday rental, depending on the destination.
- Prices do not include: wine with meals (except where specified), insurance, administration charges, tourist tax.
- For further details, please refer to the Terms and Conditions.
- The proposed dates have been rigorously selected and cannot be changed. 
Holidays Thalasso
destinations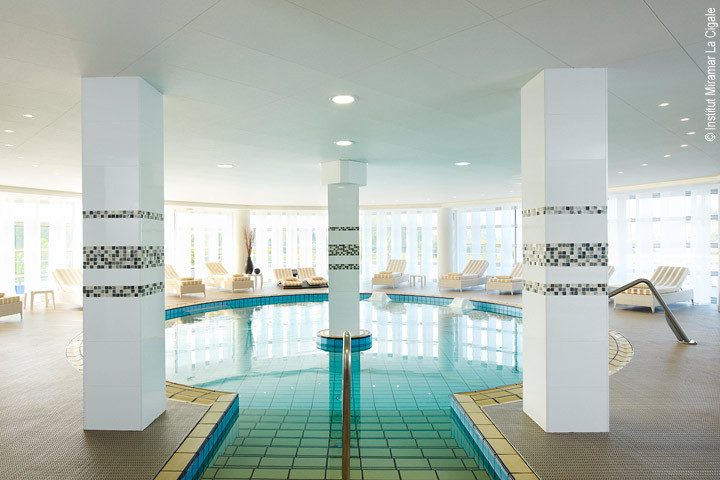 Thalassotherapy Kerjouanno
Miramar La Cigale
At the entrance to the Gulf of Morbihan, on the Presqu'île de Rhuys peninsula, discover the perfect destination for nature lovers looking for well-being. Throughout the year, the Miramar La Cigale welcomes you for a week of thalassotherapy, or a weekend or short break of spa relaxation. The Miramar La Cigale is a spa and thalassotherapy centre overlooking the sea, offering all the benefits of seawater and sea minerals. The watchword is: take your time and pamper yourself.
Treatment courses lasting 4-6 days from €499 and half-day treatments from €110 / person (not including Azureva accommodation)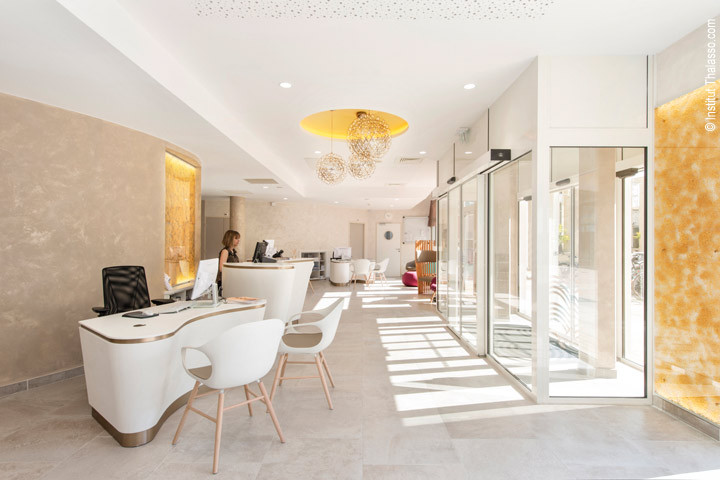 Thalassotherapy Pornichet – Baie de La Baule
Thalasso.com
Take some time out to re-energise. At Thalasso.com, the ocean is at your feet! Indulge in the benefits of seawater and massage treatments for the well-being of body and mind. Have access to the 'Thalasso Liberté ' treatment programme at any time during your course of treatments. A great way to revive yourself.
Treatment courses lasting 3-6 days from € 299 and day treatments from € 65 / person (not including Azureva accommodation)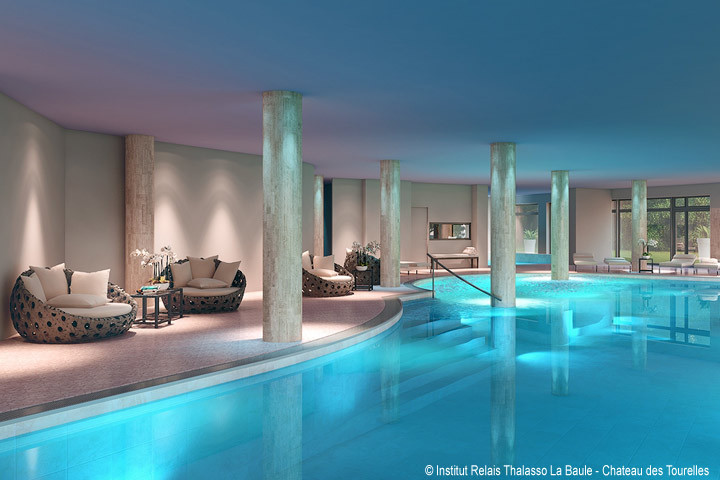 Thalassotherapy Pornichet – Baie de La Baule
Relais Thalasso La Baule – Château des Tourelles
Step inside the 40 m² thalassotherapy suite where all your treatments will be administered by a single person, your thalassotherapist. The Relais Thalasso is a private mini thalassotherapy centre devoted to well-being, which offers the full range of authentic thalassotherapy treatments. Proximity, listening, privacy, cocooning, health prevention and a personalised service are the watchwords in this dedicated space.
Courses and individual treatments over 1-3 days from €95 / person (not including Azureva accommodation)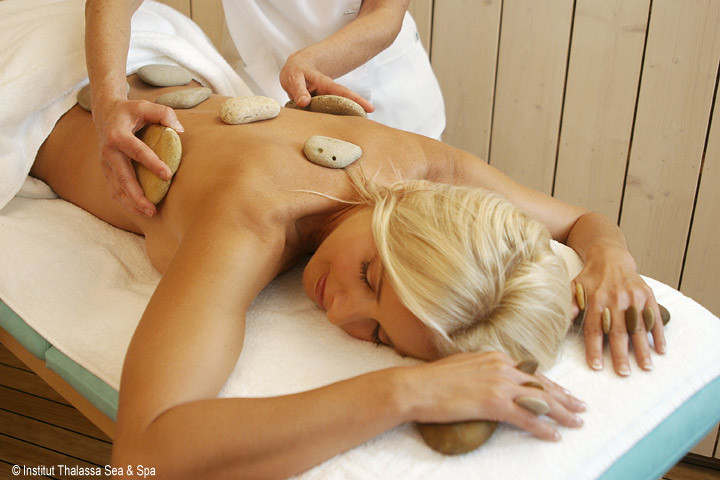 Thalassotherapy Île d'Oléron
Thalassa Sea & Spa
You're bound to fall for the incomparable charm of the Île d'Oléron's thalassotherapy centre. Every last detail has been thought out with your well-being in mind, with a relaxation area overlooking the sea and traditional architecture combined with a designer interior. Treat yourself to a well-being break!
(not including Azureva accommodation)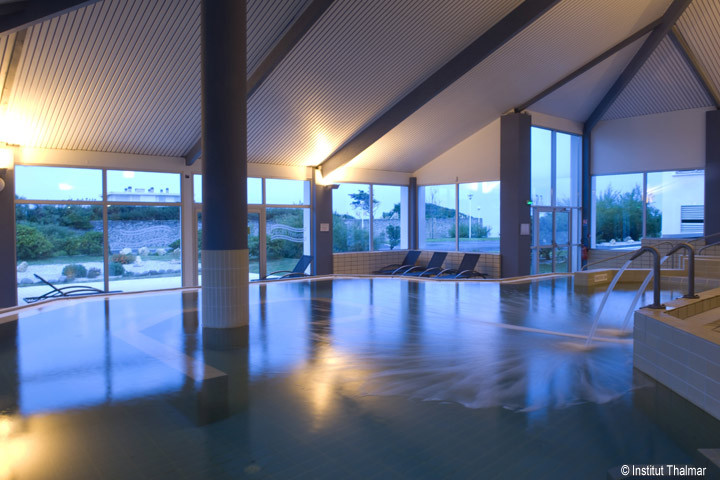 Thalassotherapy Anglet
Thalmar
On the outskirts of Biarritz, just 6 km from the Azureva Anglet Holiday Village, Thalmar offers specific courses of treatment in structured programmes. Take advantage of the 'Archipel' well-being area, with its series of three seawater pools totalling 350 m²: underwater jets, bubble seats, aqua aerobics classes, whirlpool bath, sauna and steam room. The 'Le Carré Fitness' area is specially designed for fitness, with cardio training, bodybuilding and fitness classes.
Treatment courses lasting 5 days from €335 and day treatments from €77 / person (not including Azureva accommodation)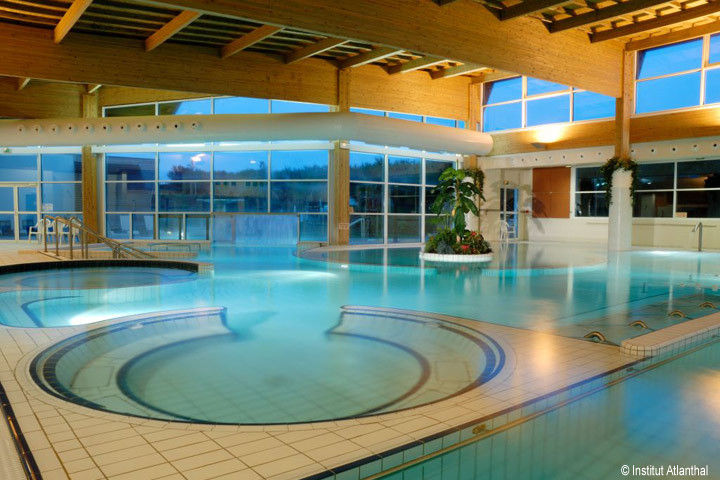 Thalassotherapy Anglet
Institut Atlanthal
Just 3 km from the Azureva Anglet Holiday Village, on the outskirts of Biarritz, the Institut Atlanthal can be reached along a gorgeous coastal path beside the beach and golf course. Take advantage of the fitness area and access to the 'Lagoon', a 350 m² seawater pool heated to 34°C. Indoor and outdoor pool areas offering a range of activities: hydromassage jets, steam-room chairs and loungers, new aqua bodybuilding activities, aqua fitness, aquadynamic, aqua finning and swimming classes. Lie back in the treatment cabins in an ideal setting for relaxation.
Treatment courses lasting 3 days from €205 and half-day treatments from €43 / person (not including Azureva accommodation)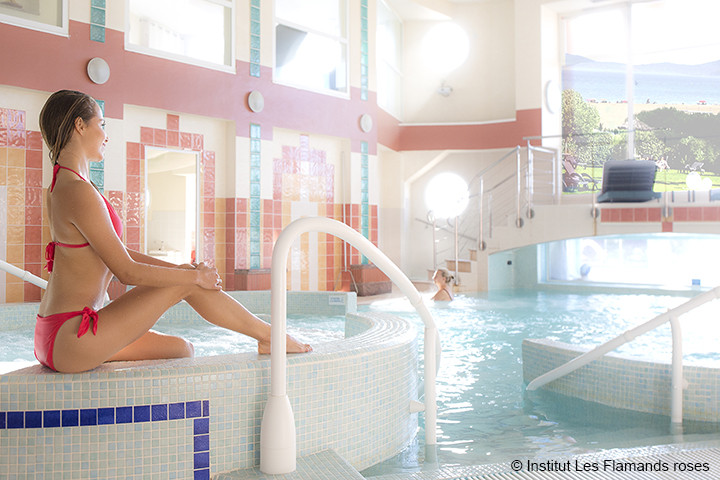 Thalassotherapy Saint-Cyprien
Les Flamants Roses
A cool, soothing setting, ideal for abandoning yourself into the safe hands of our Zen team. Make the most of your stay in our beautiful region between sea and mountains to get back in shape, and take advantage of the benefits of thalassotherapy.
Treatment courses lasting 2-6 days and half-day treatments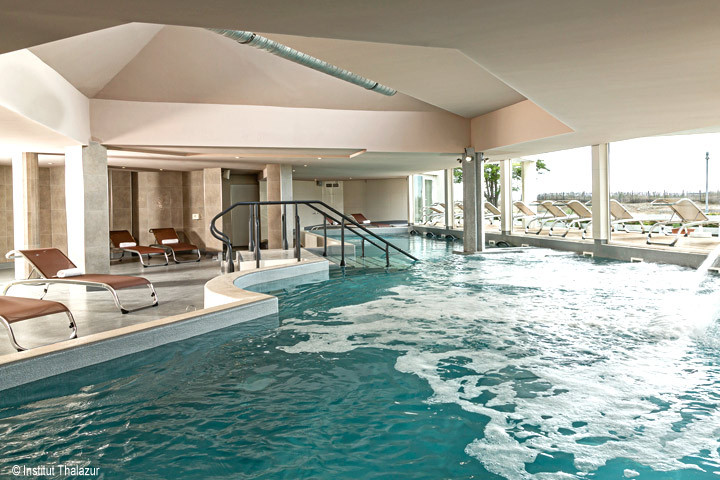 Thalassotherapy Le Grau du Roi
Thalazur Port-Camargue
Situated on the edge of the Camargue, a legendary region where nature rules supreme, the seaside town of Port-Camargue is the perfect base for exploring a rich, authentic and preserved region.  Take advantage of the spa and hydrotherapy area with its contemporary décor, the multipurpose seawater pool heated to 32°C, the sauna and steam room for the perfect way to relax. Leave the daily routine far behind, thanks to a friendly welcome and personalised service. Discover spa rituals from around the world in the massage cubicles.
Treatment courses lasting 3-6 days and treatments
Wellness destinations
with swimming pool / aquatic area
Find out all
about Azureva