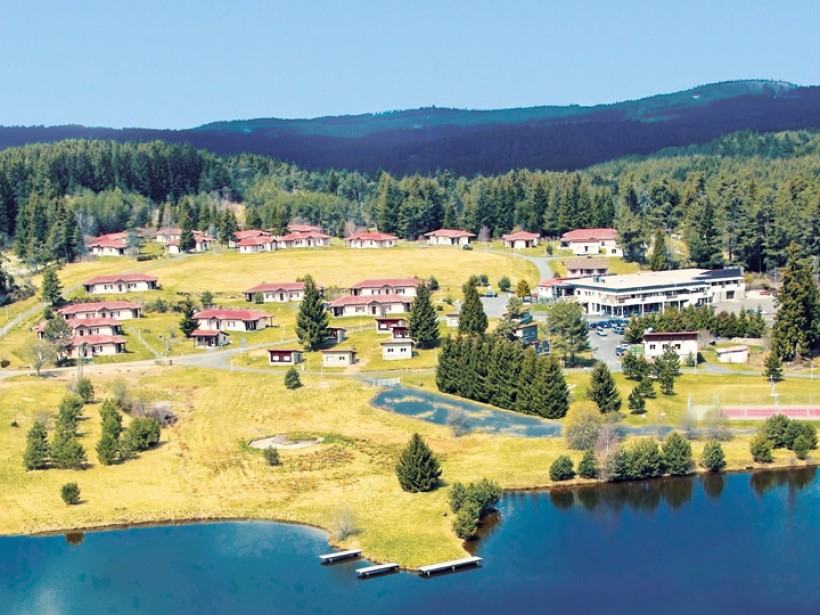 Things to do in Auvergne
The region of Auvergne is something of a well-kept secret to many non-French people, but it's not for want of things to do once you get there! A Mecca for people who love the great outdoors, this is a sparsely-populated place, characterized by rolling hills, plateaux and forests. In the summertime, there are great opportunities for walking, birdwatching, mountain biking and heritage rail journeys through local nature reserves from your base in Azureva's self-catering resort in Auvergne. In the winter, the area is famous for cross-country skiing and snow-shoeing, making it a great place for family holidays.
What is Auvergne famous for?
Auvergne is principally famous for its beautiful countryside, much of it shaped by volcanic activity. You might not realize that it's associated with some big brand names, including Volvic mineral water and Michelin tyres (the company still has its headquarters in the region's biggest town, Clermont-Ferrand). For French people, the Auvergne town of Thiers is synonymous with knife manufacturing, and even boasts its own cutlery museum! Probably better known outside the country, at least to fans of animation, will be the Clermont-Ferrand International Short Film Festival, the biggest such festival in the world. In France, it's second only to the Cannes Film Festival in terms of attendance.
Azureva's Fournol d'Auvergne themed holiday resort is located in the north-east of Auvergne. It's the ideal base for holidays in this part of the world, with its own heated swimming pool complex complete with saunas, massage, aquagym sessions and more. The sporting theme continues with the availability of pitches for multiple sports, including football, volleyball, tennis and basketball.
If you're still wondering what to do, why not try something a little less strenuous, and rent out one of the electric bikes available for hire to help you up those hills? Or take it to the next level and take to the air in a microlight flight!
What food is Auvergne famous for?
Once you've got settled down in your Auvergne-based holiday resort accommodation, you'll probably be feeling a little peckish. With full-board, half-board and self-catering options, you have plenty of freedom on these family holidays to sample any of the local cuisine that takes your fancy. Outside France, the most famous Auvergnat products actually come from the region's springs in the shape of mineral water such as Vichy and Volvic. In France, however, people associate this part of the country with green lentils from Puy en Velay (often served with salt pork), coq au vin, Auvergne hotpot and of course, cheese. Fournols itself produces its own cheese. Other major cheese varieties include Saint-Nectaire, Cantal, Fourme d'Ambert and Bleu d'Auvergne, another blue cheese made from cows' milk.
Although only a small amount of wine is produced in the area, it is home to several liqueurs and eaux-de-vie, mostly made from the roots of the Gentian flower.
What is the capital of Auvergne?
Auvergne's capital is the city of Clermont-Ferrand, with a population of around 140,000. It's one of the oldest large urban centres in France, tracing its history back to even before Roman times. Given this long heritage, it's to be expected that there are lots of things to do in and around the city.
The city's distinctive black cathedral (it was built out of black lava stone) is almost 100 metres tall and took over 600 years to complete.
About two miles north-east of the cathedral is the 'Aventure Michelin', which charts the history of this industrial powerhouse. Visitors learn about the company's core activities, but also fascinating side-lines such as railcars and tourist guides and maps.
Ascending the distinctive summit of the Puy de Dome is another must. You can do this either on foot, or you can take a rack railway to the top – you're on your holidays, after all!
If you're coming from Fournols, it's approximately 1 hour and 10 minutes by car to Clermont-Ferrand. From Murol, another Azureva holiday village in the French mountains, it's just a 40-minute drive. For more details about either resort, please get in touch with us via email [email protected] or phone 04 74 32 74 63.
Find out all
about Azureva