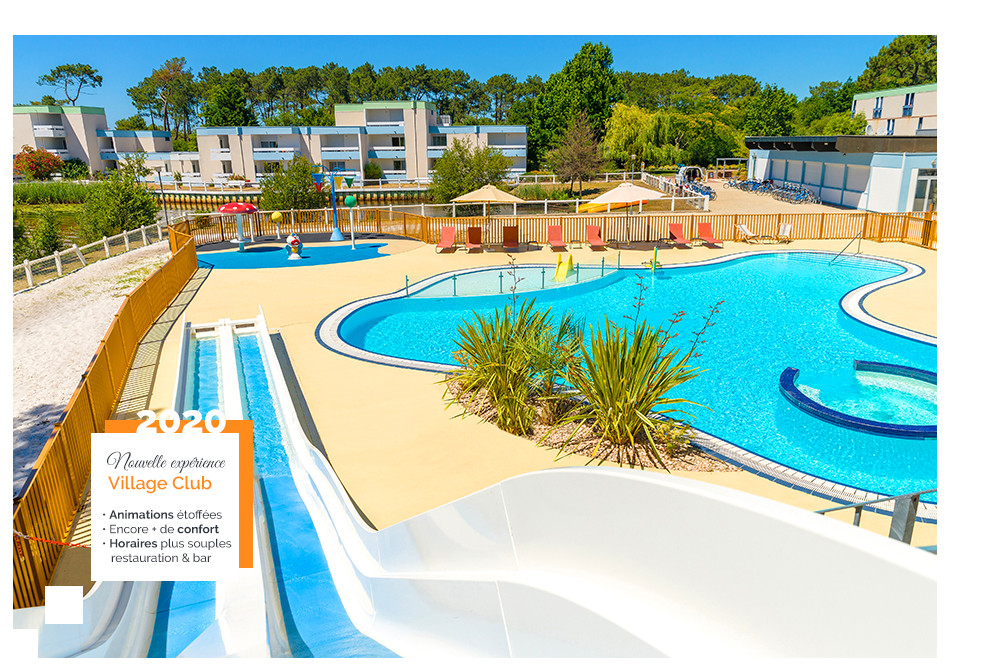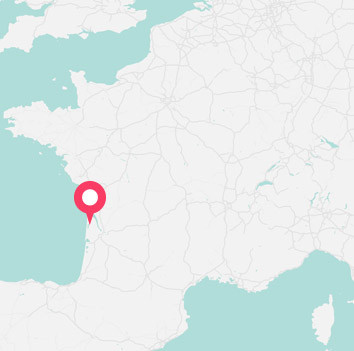 Club village 3 stars LACANAU Gironde Médoc Atlantique
A multi-activity club-village with private beach.
On the edge of the great Lake at Lacanau, just a dozen kilometres from the beaches of the Aquitaine coast, the Lacanau club-village*** in the Gironde is a destination in its own right for families and sporty types. As soon as they arrive, families love to head to the private beach which has facilities on-site. You will also love the swimming pool complex, which is free to use. With its large heated swimming pool, a water recreation area for little ones, slide, water slide and balneotherapy area, there's something for the whole family to love.
Our teams will help you make the most of all the activities (which are either free of charge or available as an optional extra) at this club-village on the Aquitaine coast. The Lacanau club-village*** in the Gironde has its own wake park (optional extra) – a wakeboarding paradise, as well as mini-golf, a public access fitness trail, sandy sports pitch (beach volley/beach soccer), and bikes available to rent. Our activity leaders will also be able to help you make the most of preferential rates with our partners outside the club-village. And if you have some energy left, there are many wonderful excursions to the surrounding area of the Médoc Atlantique (tourist designation for the area including 14 municipalities for Lacanau in Soulac-sur-Mer). We highly recommend a trip to the vineyards of the Médoc, around the Arachon Bay, and to the magnificent city of Bordeaux... What an amazing holiday we have in store for you!
Why choose this destination
Club-village with swimming pool, on the edge of a lake with a beach
Heated swimming pool during the summer season, with swimming area, kids' pool, water recreation area for little ones, slide, water slide with 2 lanes, balneotherapy area with benches.
Gourmet Hub: poolside snacks, shellfish platters and seafood platters, tapas bar, beer* and cocktails*.
*  Alcohol abuse is harmful to health. Consume in moderation.
Half-board Free + Optional extra : early arrival / late departure
Bike, mountain bike and canoe rental (optional extra)
Cycle route starting from the village 
Board sports open April to September, in partnership with "I Wake Park"
Beginners sessions, ski-tow practice, wakeboarding, stand-up paddle boarding, kite surfing, surfing, (optional extra) for adults and kids.
Opening dates:

From April to September
Demi-pension

Pension complète
Discover the holiday village's quality labels
Family
The fun family vacation
According to the destinations
• Connecting rooms for the majority (up to 8 pers. according to the destination) And catering adapted to accommodate young and old
• Baby area available (depending on the destination, information from your holiday establishment)
• Children's club from 3 to 17 years old (in French school holidays) with dedicated rooms
• Family activities: sports, games, creation, discovery and nature ... evenings
• Play area and library
• Bicycle rental child, adult and baby seat (according to the destination)
• Ideas for visits and itineraries for everyone
Party time
The animation is queen
According to the destinations
4 evenings a week: live musical entertainment, show, theme evening and catering with decor, dance party
Musical atmosphere at the bar every day
Dance Workshops, Sports Dance, Salsa, give rhythm
"Games-festive": blind test, quiz ,.
Contact list of babysitters
Participation in regional festive events
Sport spirit
Your new playground
Circuits all levels for hiking, mountain biking, cycling, running, skiing, sliding ...
Partnerships for nautical activities, whitewater, mechanical, aerial, ...
Secure locations for your equipment, cleaning point and repair kit
Rental of winter sports equipment
Gym & fitness room with relaxation area
Adapted restoration
Sport events
Nature
Place in the open air, opening on the terroir
According to the destinations
Villages located in the heart of a natural environment
Children's animations on the theme of nature and ecology
Excursions to discover the local flora and fauna
Routes for hiking and cycling for all
Visit farms or farms
Discovery evening of the local nature
Animations on sustainable development
Well Being
Villages for a well-being and Zen parenthesis
According to the destinations
Finely selected partners propose you the best centers of fitness, relaxation, spa, care, Thalasso and Cures.
Daily animation of the village around muscular awakening and relaxation
Possibilities of modeling and specific sports animations
Adapted restoration
Pool, hot tub, sauna, gym
Seminar
Your events in the heart of the most beautiful regions
According to the destinations
High Capacity and Subcommittee Rooms
Projectors, sound, screens, flipchart
Dedicated staff, adapted furniture
Wi-Fi on the village
Specific catering (meals and service)
Choice of coffee breaks & cocktails
Daily housekeeping
Partners for your sporting, cultural activities ...