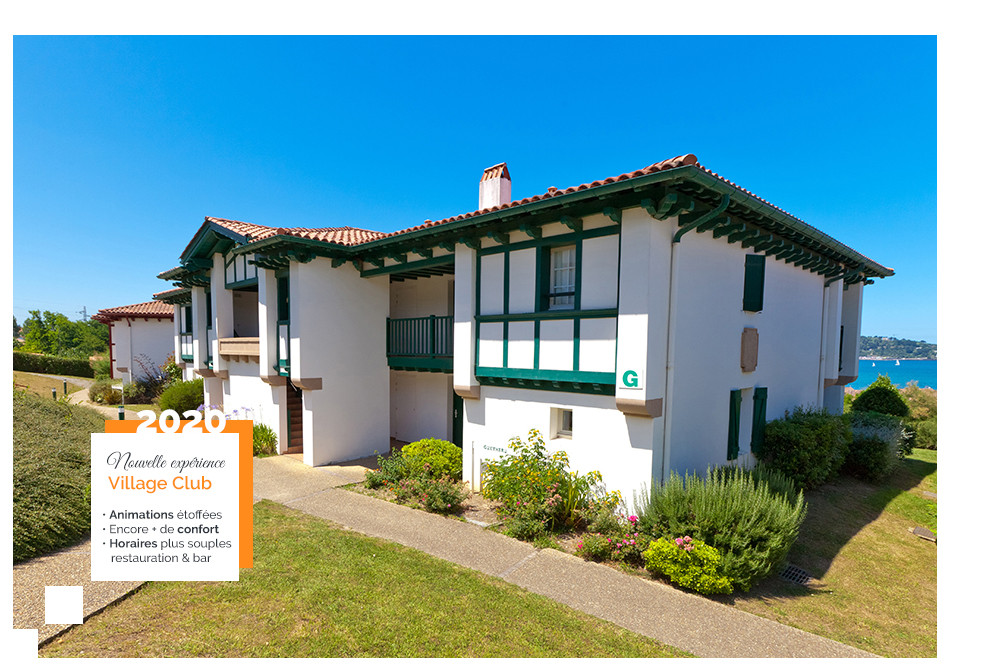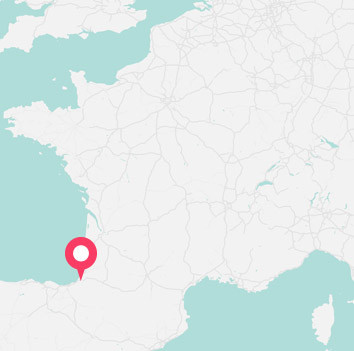 Club village 3 stars HENDAYE Pays basque Pyrénées-Atlantiques
Holiday village spa resort  in the Basque Country in France 
Our 3-star club village at Hendaye is a wonderful place to spend your family holiday in the Basque Country. Whether they are families, couples or friends, our holidaymakers are always amazed by the magnificent views from this club-village overlooking the Hendaye Bay and the ocean. You too will love having a 3 km powder-soft sandy beach just 5 minutes way. Hendaye beach is the largest and one of the safest on the Basque coast. The Basque architecture of the spacious and comfortable lodges at the Hendaye club village** make your stay all the more enjoyable. You will need at least a week to make the most of what the Hendaye club village*** in the Pays Basque has to offer in terms of activities, both free of charge and optional extras! Play activities and sports in the heated swimming pool or gym; hikes; tasting tours; golf lessons on the courses of the Basque Country... Kids will leave with a whole host of memories, courtesy of the qualified activity leaders in the kids and teens clubs. Make sure you leave some time to take off and discover the incredible Basque culture. Its traditions, cuisine, dance, music, games and festivals are a journey in themselves! Christmas and New Year on the coast. We would be delighted to welcome you at our holiday village for the festive season. Why not do something different this year and spend Christmas and New Year on the coast.
Why choose this destination
Club village with covered and heated swimming pool, 400 m from the beach
Activities for kids, teens and parents
Introduction, beginners and improvers golf lessons with our partner Dioxka Golf Academy, led by a highly experienced instructor.
Public transport: partnership with Hegobus
Hegobus pack
Pack of bus tickets to travel throughout the Hegobus network.
Transport tickets are to be collected upon arrival at the Viilage Club d'Hendaye, at reception.
The first bus stop is 300 meters from the Village Club, directions: the beach, the city center, the train station or Irun (Spain) and Saint Jean de Luz ...
2 options are possible (on the Hegobus network):
- 1 booklet of 10 tickets (valid for 1 hour) for over 6s: € 8.50
- 1 7-day ticket (1 to 5 pax included) with unlimited journeys: 10 €
Unit tickets cannot be sold in advance because they are marketed directly (and only) by the bus driver.
https://hegobus.fr/fr/titres-et-tarifs/titres-de-transport/
Opening dates:

From April to November & from 22/12 to 06/01
Demi-pension

Pension complète
Discover the holiday village's quality labels
Family
The fun family vacation
According to the destinations
• Connecting rooms for the majority (up to 8 pers. according to the destination) And catering adapted to accommodate young and old
• Baby area available (depending on the destination, information from your holiday establishment)
• Children's club from 3 to 17 years old (in French school holidays) with dedicated rooms
• Family activities: sports, games, creation, discovery and nature ... evenings
• Play area and library
• Bicycle rental child, adult and baby seat (according to the destination)
• Ideas for visits and itineraries for everyone
Party time
The animation is queen
According to the destinations
4 evenings a week: live musical entertainment, show, theme evening and catering with decor, dance party
Musical atmosphere at the bar every day
Dance Workshops, Sports Dance, Salsa, give rhythm
"Games-festive": blind test, quiz ,.
Contact list of babysitters
Participation in regional festive events
Sport spirit
Your new playground
Circuits all levels for hiking, mountain biking, cycling, running, skiing, sliding ...
Partnerships for nautical activities, whitewater, mechanical, aerial, ...
Secure locations for your equipment, cleaning point and repair kit
Rental of winter sports equipment
Gym & fitness room with relaxation area
Adapted restoration
Sport events
Nature
Place in the open air, opening on the terroir
According to the destinations
Villages located in the heart of a natural environment
Children's animations on the theme of nature and ecology
Excursions to discover the local flora and fauna
Routes for hiking and cycling for all
Visit farms or farms
Discovery evening of the local nature
Animations on sustainable development
Well Being
Villages for a well-being and Zen parenthesis
According to the destinations
Finely selected partners propose you the best centers of fitness, relaxation, spa, care, Thalasso and Cures.
Daily animation of the village around muscular awakening and relaxation
Possibilities of modeling and specific sports animations
Adapted restoration
Pool, hot tub, sauna, gym
Seminar
Your events in the heart of the most beautiful regions
According to the destinations
High Capacity and Subcommittee Rooms
Projectors, sound, screens, flipchart
Dedicated staff, adapted furniture
Wi-Fi on the village
Specific catering (meals and service)
Choice of coffee breaks & cocktails
Daily housekeeping
Partners for your sporting, cultural activities ...