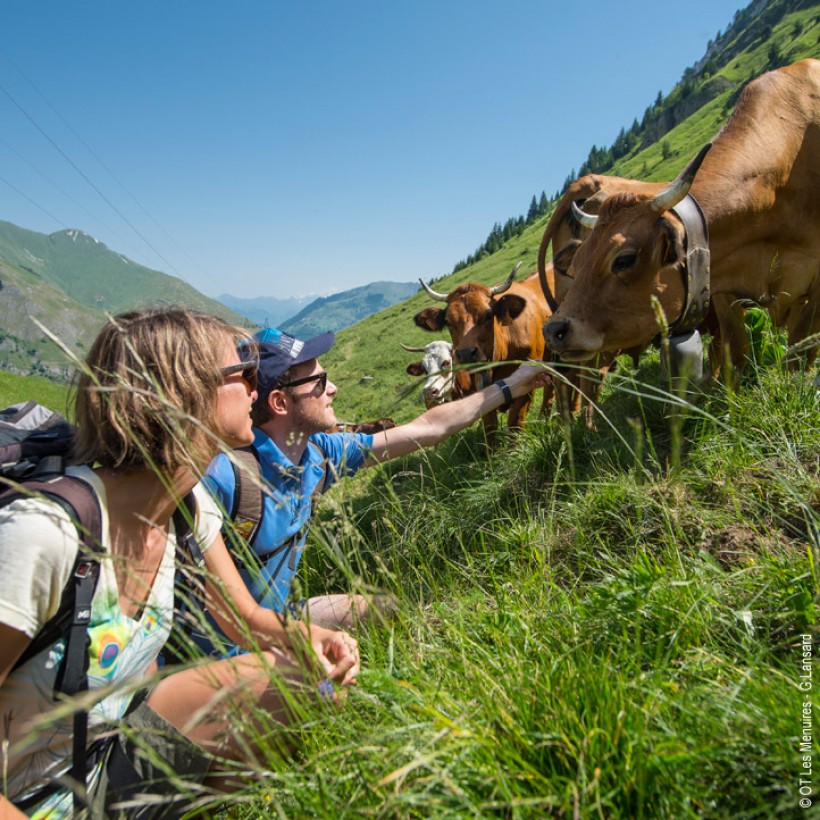 Visiting the French Alps
Our French Alps holidays
Azureva is the specialist in holiday villages and self-catering resorts in France, and if it's a summer holiday in the French mountains you are looking for, Azureva has all you are looking for in the French Alps! Discover some of our fine destinations and learn more about our high-quality resorts. It is our commitment to providing everything our visitors could possibly need to make their holiday experience with Azureva a memorable one.
Our holiday villages in the French Alps are situated in ideal locations for summer holidays with an array of outdoor sports and nature activities close by. Ideal for families with children of all ages, you will find many occasions to enjoy new adventures together. Or perhaps, the younger members of the family can head off to their kids' club where they can make new friends, learn new sports and more… while you can rest and recharge your batteries in the idyllic landscapes from your mountain chalet terrace. Our French Alps holidays can be tailor-made to your exact needs. Simply watch for our labels for each holiday resort to choose themes you would like to enjoy during your stay: wellness, sports, nature, family and festive!
What to do in the French Alps this summer?
In the Savoy region, the authentic mountain village of Areches-Beaufort, our resort Karellis in Montricher Albanne or even our chalet residences in La Clusaz, are among the many great destinations in the French Alps. Set in unspoiled, natural landscapes, you will be able to enjoy the regenerative fresh mountain air, the splendour of mountain meadows and pastures, beautiful vistas and enjoy your favourite mountain sports.
Bike hire is available at our mountain villages for those you who would love to discover the trails and passes on wheels. On foot, whether you are planning leisurely family walks with lovely views to suit all ages and fitness levels or you are a confirmed mountain hiker and will be exploring challenging trails and paths, the French Alps offers outdoor sports to please everyone. Beginner zones, Enduro trails, and bike parks are within reach thanks to the network of ski lifts open during the summer season. Each holiday residence has access to an array of sports activities to enjoy – canyoning, paragliding, horse riding, fishing and caving…
Visitors in search of more wellness than sports will also find their pleasure. Select a holiday village with the wellness label to enjoy all the benefits of pampering treatments, afternoons of total relaxation with access to heated pools, steam room, hammam, Azureva delivers self-care and rejuvenation in idyllic settings.
With activities available both at your resort and nearby, there need never be a dull moment during your stay. Mountain sports abound, there is also much to see and discover in the region. From visits to a baroque church and quaint museums in the Maurienne Valley to guided tours of historical villages, mountain festivals such as the Roc des Alpes bike event and Reblochon Festivals near La Clusaz and the stunning lakes to tour, it may be hard to find the time to see all there is available at your chosen destination!
Enjoy a holiday in the French Alps in the way you choose, Azureva offers self-catering resorts such as, Les Menuires in the Three Valleys ski area or you can design your tailor-made getaway to the mountains with a multitude of facilities and services to create your ideal stay. Many of our mountain resorts proudly bear the Famille Plus label, a guarantee of a quality welcome for families.
Learn more about Azureva holidays with our online brochure and contact our expert advice team for any further information you may require.
Find out all
about Azureva