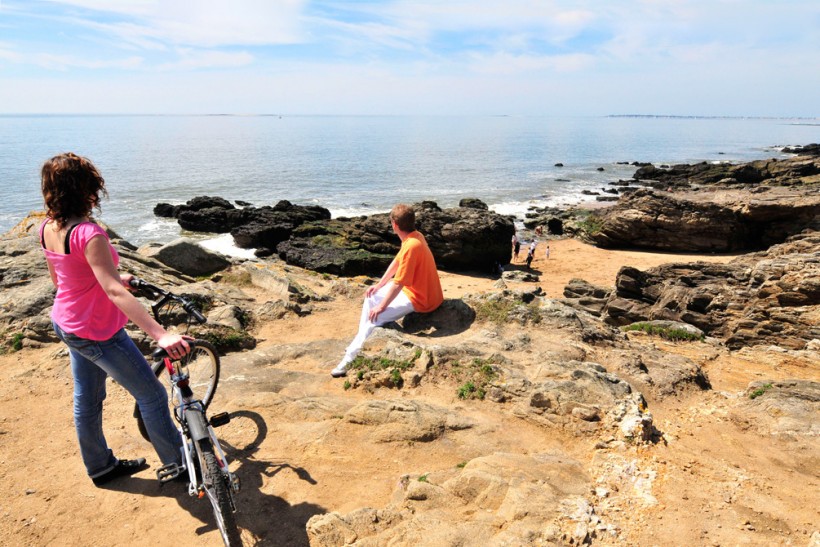 Best places on the French Atlantic coast
Azureva offers you a vast choice of holidays on the French Atlantic coast for family holidays, romantic escapades and weekend getaways! 
From north to south, the coastal towns and villages of western France are so varied in history, culture and tradition, we would like to invite you to discover a different region on each visit! From the crashing waves of the Basque country to the historical Landing Beaches of Normandy, you will find some of the best places to visit on the Atlantic coast. Choose an oceanside destination, the style of holiday you desire and look forward to an exceptional stay with Azureva.
Exceptional holidays on the French Atlantic coast – Charente Maritime
Discover the regions of Charente Maritime, home to renowned holiday destinations such as La Rochelle and Oleron Island for sun and nature. Charming fishing villages, splendid countryside and beaches, ideal for a family holiday with plenty of sports and leisure activities, Azureva offers self-catering, half board and complete holiday packages in ideal locations to make the best of the fine weather, idyllic landscapes and your chosen holiday activities! With swimming pool, spa and Thalasso and family facilities, Azureva ensures ease, comfort and fun by the ocean.
Discover the wild side of the French Atlantic coast – Brittany
Brittany is among the most visited and appreciated destinations in France. Whether you wish for a family beach holiday, wining and dining weekend by the coast for excellent seafood, or a great outdoors holiday for cycling, hiking or water sports, Brittany offers a vast choice of holiday themes as well as, great landmarks and historical sites to discover. From white sandy beaches to stunningly wild and rugged coastlines, here, you will find a multitude of ways to enjoy the ocean. Invigorating walks along the coast, swimming, beach sports and boat trips are just some of the holiday ideas that will reveal the oceanside beauty.
When you choose a Brittany holiday with Azureva, you will also be ideally located to visit many of great attractions. Rich with Celtic history and traditions, a breathtaking natural heritage, visitors enjoy visiting the quaint villages both along the coast and inland. Discover the vestiges of an ancient Huelgoat forest, explore the pink granite coastline in Ploumanac'h or enjoy a day out to the UNESCO World Heritage site, the abbey island of Mont St Michel. The seaport town of St Malo is a major tourist attraction in Brittany, thanks to its historical wealth. A tour of the old town sector and ramparts offers an exceptional day out for all the family.  
Azureva has a choice of holiday clubs and villages in Brittany for weekend breaks or summer holidays in France. For a truly unique experience, head to our themed holiday resort in Tregunc and dive fully into the universe of Celtic Brittany. Here you will enjoy a comfortable stay in charming Breton style accommodation and be invited to discover the traditions, customs and specialities of Brittany's Celtic past. You will have a choice of historical outings on foot and by boat, food tastings, dance and music events… The Azureva team have a host of activities to delight the whole family during your holiday.
Beautiful holidays on the French Atlantic coast – Loire Atlantique
Further south along the Atlantic coast, Azureva welcomes visitors to another themed holiday in Pornichet Baie de la Baule. Ideal for visiting the Pays Blanc and its salt marches, the Wild Coast or nearby medieval towns such as Guerande, you will also enjoy a great family stay at your holiday resort! Sports, Spa, beach in a stunning location with plenty to do and see throughout your visit, we hope you enjoy planning your holiday activities with Azureva.
Find out all
about Azureva