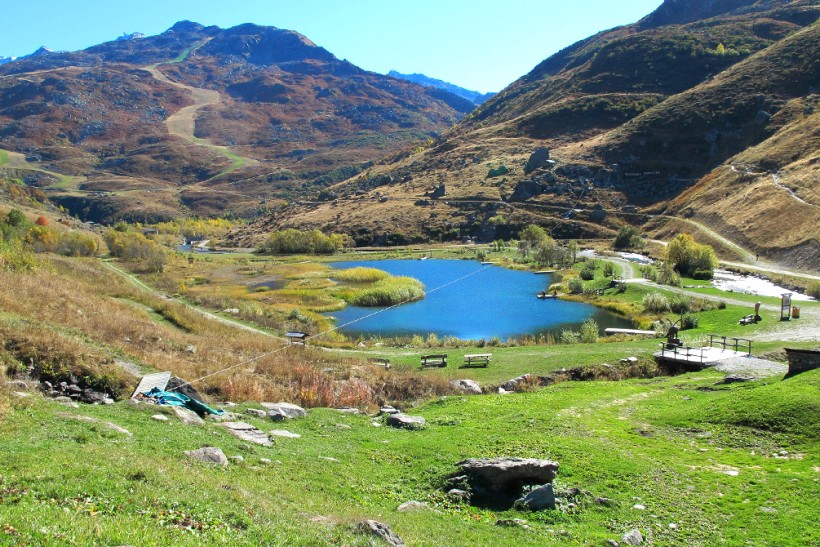 Things to do in Les Menuires
The Alpine resort of Les Menuires is a year-round destination, offering lots of things to do whatever the season. In the winter, skiing and related sports are obviously top of the agenda, whilst summertime is also very much focussed on outdoor activities such as mountain biking, canyoning, paragliding and glacier hiking - not to mention simply enjoying the region's wonderfully sunny climate and natural beauty!
Summer holiday fun in Les Menuires
Although part of the famous '3 Vallées' ski area, Les Menuires is also a sought-after destination for summer holidays. Ski resorts have worked hard to understand what to do to attract visitors outside the winter season and, as a result, offer a wide range of leisure pursuits. The most popular are still the classics – hiking on the 250km of marked footpaths through stunning mountain scenery, mountain-biking along 120km of trails, and perhaps a little fishing for the more contemplative! On top of that, sporting activities include everything from beach volleyball, table tennis and archery to trampolining, judo and swimming.
Azureva's Les Menuires self-catering resort is an entertainment hub in its own right, with kids' clubs organized every week for 3- to 17-year-olds. Meantime, the adults can relax at the Les Bruyères wellness centre which includes a pool, jacuzzi, hammam, sauna and treatment area for massages. There are also areas specifically dedicated to children and the centre is less than a ten-minute walk from the resort.
Fancy doing something a little different? What about a side trip to Turin, a beautiful Italian city with tons of things to do? It's just a three-hour drive from Les Menuires, making it a possibility for a day trip or a weekend.
Les Menuires during the winter season
Some people like Les Menuires so much in the summer, they decide to give the winter a go too! Activities are centred mostly on winter sports, although if you want winter holidays without the skiing, there are lots of options available to you: what about an Alpine roller-coaster ride, snow-scooter rides by night, sledging, dog-sledding, snow-shoeing or even a cable car trip to the Aiguille du Midi? (Don't forget to check opening dates and times).
If you are a winter sports enthusiast, the local ski area offers 160km of slopes, covering every level of difficulty. The wider 3 Vallées ski area is much larger and takes in renowned resorts like Méribel and Courchevel. Other things to do include night skiing on floodlit slopes, cross-country skiing and snowboarding tricks at the local snowpark and the Courchevel railpark, which has dedicated beginners areas.
If you want to get away from the winter sports scene altogether for a bit but are wondering what to do about it, why not give microlight trips or paragliding a try? Taster sessions are available at all times of the year.
Fascinating local heritage and history are yours to enjoy
The whole Savoie region is full of history, having been a crossroads for trade between Italy, France and Switzerland for centuries. Pretty historic towns like Chambéry, Aix-les-Bains, Conflans and Annecy are well worth a visit, not to mention mountain villages such as St Martin de Belleville and St Marcel, both noted for their religious architecture, especially the chapel of Notre Dame de la Vie, built in the Savoyard Baroque style characteristic of the region.
More modern history features in the form of the Museum of the Winter Olympics in Albertville, which showcases the story of the 16th Winter Olympic games in 1992 and, going back a little further in time, the Ouvrage Saint Gobain, a fort on the Maginot line defended by a garrison of 150 men, now open to the public during the summer time.
Whether you're on summer or winter holidays, or just looking for fun things to do on a shorter trip, you'll find Les Menuires to be a great base in France for weekend breaks. If you have any questions about the area or Azureva's resorts in Savoie, you can contact us at 0033 (0)4 74 32 74 63 or [email protected].
Find out all
about Azureva