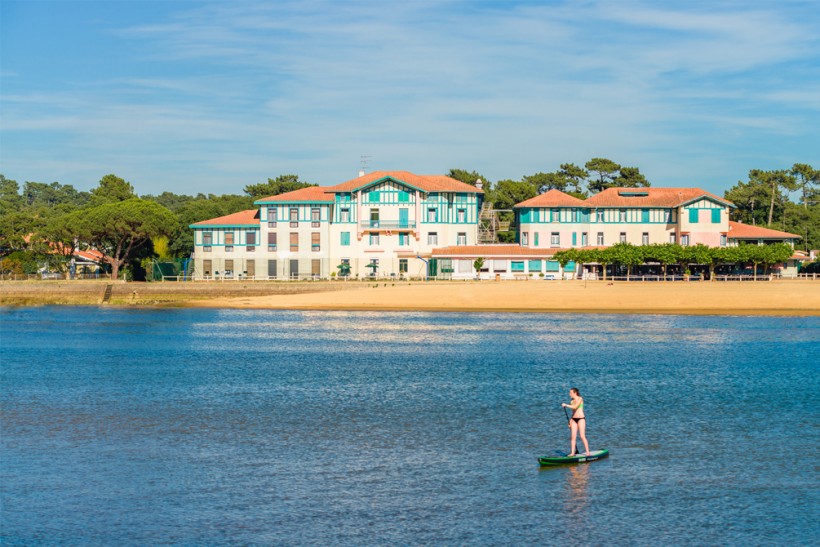 Things to do in Hossegor
The seaside resort of Hossegor, on France's southwestern Atlantic coast, is inextricably linked with surfing, being one of the best places in the world for this sport. The area is also famous for its golf courses, and its 18-hole is considered one of the finest in the region. The mild climate favours other sporting activities and outdoor pursuits in general, so as long as you're prepared to work up a sweat, there are plenty of things to do.
Make the most of 3-star facilities and services in Hossegor
Azureva's new hotel in Hossegor, the Hôtel du Parc, is perched on the very edge of Hossegor lake, a saltwater lagoon which offers an extremely safe environment for young children and anyone less at ease with the sea. It's ideal for swimming, paddleboarding and canoeing.
If you're after a relaxing time on your holidays, this hotel's facilities are designed just for that. Its spa features a sauna, hammam and hot tubs (boasting lake views!). Meals are served in La Rotonde restaurant, which also gives diners views over the lagoon. After dinner, perhaps you'll unwind in one of two relaxation lounges or sip a drink on the outdoor terrace of the 'La Belle Epoque' bar. If you feel like venturing further afield, bicycle rental can be arranged and we can also rustle up a packed lunch for you, but many guests just enjoy unwinding on-site! This new venue is a great example of how package holidays in France can be a really relaxing way to spend the summer!
Explore the beautiful Landes region – and beyond
Nature-lovers will be in heaven in this place – as will anyone looking to enjoy countryside holidays in France. The Landes are dominated by western Europe's largest man-made forest, in the shape of over one million hectares of trees, mostly maritime pines and various species of oak. There is an extensive network of cycle paths and footpaths that criss-cross the area. In fact, this 'département' boasts the most St James' Way pilgrimage paths of any in France. It's not surprising that there are four abbeys and churches here which are UNESCO World Heritage sites.
Just over the 'border' in the Gironde, lies one of France's premier birdwatching spots at Le Teich. This is especially good for birds of wetland habitat like Marsh Harrier, Osprey, Spoonbill and Black-Winged Stilt.
The coast of the Landes is known as the 'Côte d'Argent', the silver coast, because of its beautiful fine sand. Perhaps the most famous point on this coast is the Dune du Pilat, Europe's tallest sand dune, a favourite place for sunset walks but also paragliding! If you're already familiar with these natural highlights and are unsure of what to do next, why not turn southwards to the Pyrenees? In barely an hour's drive, you're amidst the lush-green foothills and distinctive red and white houses characteristic of the region.
Surfing hot spots
The entire southwest coast of France is renowned for its surfing spots, with Hossegor being one of the best. If top of your things to do list on your summer holidays in France is surfing, you have a number of options, including Mimizan, Biarritz Grand Plage, La Côte des Basques and La Chambre d'Amour. The last-mentioned is extremely conveniently-located just a 15-minute walk from Azureva's holiday village Anglet resort.
Hossegor is not only a great place to practise your moves, but also to see some of the world's biggest names in surfing. In September, the Quiksilver Pro France World Surf Challenger series event attracts globally-renowned surfers.
It shouldn't be forgotten that the Spanish coast also has some top surfing spots, including Mundaka and Zarautz, the latter just over an hour's drive from Hossegor.
For more information on Azureva's resorts in this part of France, just phone 0033 (0)4 74 32 74 63 or email [email protected]
Find out all
about Azureva