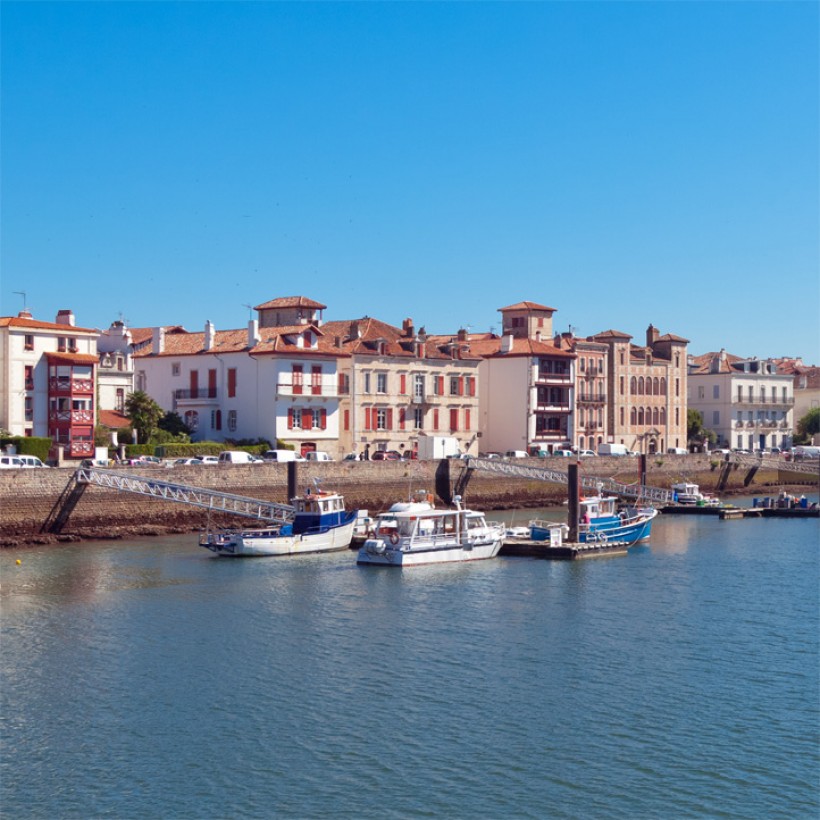 Things to do in Hendaye
Hendaye, at the very southernmost point of France's Atlantic coastline, boasts beautiful sandy beaches and excellent surfing, especially for beginners. The southwest of France is also well-known for being a prime destination for golfing holidays and there are several excellent 9- and 18-hole courses within easy reach of the town. Azureva's club village also features many leisure facilities on-site, so you don't have to go far to keep yourself entertained.
Take the package holiday approach in Hendaye!
Our Club Village in Hendaye is a great example of how package holidays can really make life simpler, especially if you're travelling with children and need a constant stream of things to do to keep the little ones happy. You can choose from either full-board or half-board, with accommodation in the shape of Basque-style lodges. The restaurant serves up delicious local specialities, as well as splendid views of the Atlantic Ocean.
As well as taking care of all your catering needs, package holidays in France also offer multiple services and facilities on-site to help your holidays go with a bang! In Hendaye, the emphasis is on sports, family fun and relaxation and kid-centred activities. The indoor heated pool is a particular draw with its whirlpool area and aquafit sessions – providing a mix of get-fit and relaxing zen vibes that will leave you feeling great! You may also be able to benefit from special rates which we have negotiated on your behalf for activities like guided sight-seeing tours and golfing lessons.
The best activities for kids in Hendaye
You won't need to go far for fun for your children in Hendaye. The Club Village runs three kids' clubs for age groups from 3 to 17 years during the school holidays. Supervised by qualified staff, activities include arts and crafts, dancing, singing, sports tournaments and, for the older kids, off-site sporting activities such as surfing, tree-top adventure courses and rafting. There are even taster sessions of that very Basque sport, pelota!
If you prefer to venture off-site and explore the local area, the nearby towns of Biarritz and Bayonne are well geared to tourism of all kinds. Biarritz Aquarium is highly-rated and features tanks with marine species from all over the world, with the seals being the stars of the show for many visitors.
There are long stretches of family-friendly beaches north of Hendaye – the Plages des Sables D'Or in Anglet is particularly suitable for families at low tide, with lots of cafés, ice-cream shops and public toilets.
And if you feel like you don't know what to do in terms of seaside activities, you can always strike inland. The Baigura activity centre is a little under an hour's drive from Hendaye and offers activities ranging from paragliding and all-terrain scooters to hiking and a mini tractor-pulled train excursion.
Hendaye is open for tourism all year round!
The Basque coast is a great place for a summer holiday in France, but have you ever thought of visiting this region in the winter? Well, with Azureva, it's possible to stay in the Hendaye holiday resort for most of the year, from April to November, but also over the Christmas/New Year period! As late as October average highs of 21°C can be expected. October is also a month which sees a number of notable local events, including the Quiksilver Pro surfing competition in nearby Hossegor and the pepper festival, celebrating the famous Espelette pepper, a mainstay of Basque cuisine!
You could even take advantage of your proximity to the Spanish border to see something of another country's Christmas or New Year traditions – San Sebastian, Pamplona and Bilbao are reached relatively easily by car, while San Sebastian is only about half an hour away by train.
Whatever time of year you are hoping to visit, start planning now and don't hesitate to get in touch with us by telephone 04 74 32 74 63 or email: [email protected].
Find out all
about Azureva