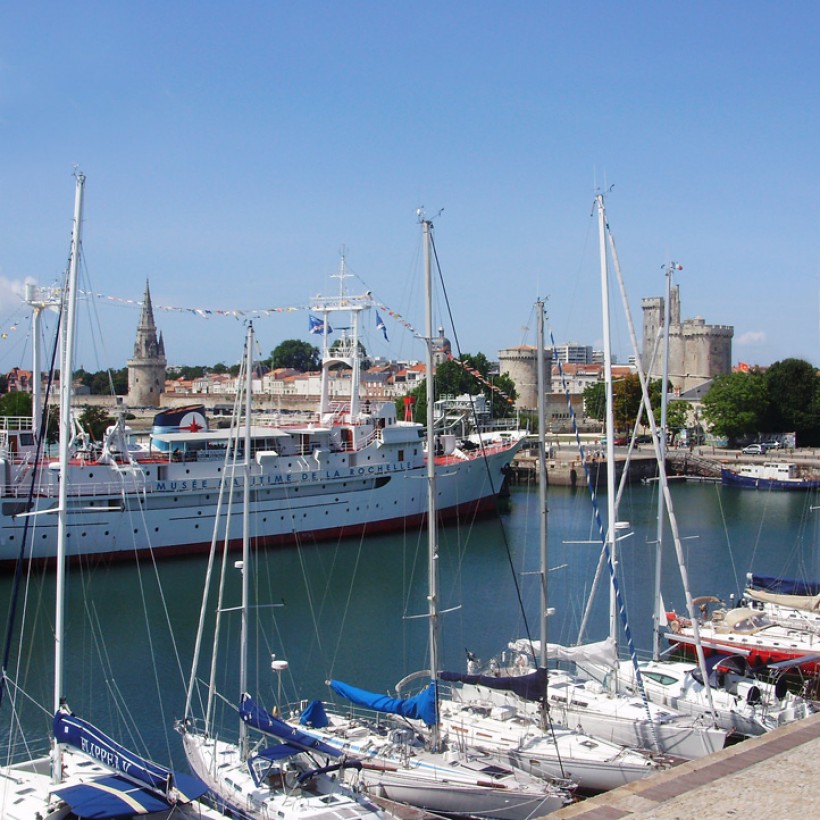 Things to do in Charente-Maritime
The French département of Charente-Maritime, has, as its name suggests, a long association with the sea, and the influence of the Atlantic Ocean is everywhere to be seen. Beautiful beaches, a famously sunny climate and the fascinating heritage of towns like La Rochelle, Rochefort, Saintes and Talmont combine to ensure that you'll never be wondering what to do on your holidays in the area!
Camping in Charente-Maritime: a treat for all the family!
Due to its mild, sunny and fairly dry climate, Charente-Maritime is a great place to try your hand at camping! Azureva actually has various camping options in this part of the world, including one of the camping in the Ile d'Oléron, France. This particular campsite is a 'family plus' campsite, meaning there are many facilities and activities aimed at families in the attached holiday village.
Things to do include getting the most from the heated swimming pool, sports tournaments and evening entertainment specially laid on for you in the shape of live music, games and dance workshops. To make life even easier for campers, there is a restaurant with a takeaway service. Two kids' clubs (3 to 5 years and 6 to 11 years) offer a range of activities for your children, giving you a chance to have a little time to yourself. One activity that you can definitely do as a family is to explore the extensive (160km) cycle path network. Bikes can be hired at the village.
As a nice, final touch, pitches are located beside a pine and oak forest for a real 'back-to-nature' feel.
Don't forget that you also have the chance to holiday in a mobile-home or go camping on the Atlantic Coast of France in a variety of other Azureva locations, including Brittany and the French Basque Country.
Summer on the Ile d'Oléron – the top attractions
Boasting its own micro-climate, the Ile d'Oléron is a favourite destination for holidays for families. In fact, there are so many leisure pursuits to choose from that knowing exactly what to do for your next day's fun may be the hardest thing you have to deal with!
Water sports are obviously huge on the island, with sailing, sand yachting, bodyboarding, scuba diving, windsurfing and fishing being just some of the things you can try.
If you prefer to keep your feet firmly on dry land, you could cycle, skateboard or ride your way around the island! Golfing, tree-top adventure courses and even parachuting are also on the menu. Beautiful beaches, a historic fort and an oyster-farming community, characterized by its brightly-coloured cabins, add a little variety to the mix.
The major sights of mainland Charente-Maritime
If you've opted for Azureva's campsites on the mainland for your holidays in Charente-Maritime, either at Ronce-les-Bains just south of the Ile d'Oléron or the Fouras campsite just west of the town of Rochefort, you're well-placed to discover the different landscapes, major events on the cultural calendar and rich heritage of the region.
La Rochelle is the largest city, boasting some of the area's most visited attractions, including the old harbour and its towers, the aquarium, the maritime museum and a quirky museum of scale models. It's also a great place to yacht-spot!
The towns of Saintes and Rochefort are the next largest urban centres, boasting, respectively, a Roman arch and amphitheatre and an 11th century abbey; and the former royal ropeworks, which was once the longest industrial building in France (at 374 metres, it's longer than the Eiffel tower is high).
When you've had enough of walking around museums and cities, other things to do include one of Europe's largest zoos, the zoo de La Palmyre; climbing the 300 steps to the top of the lighthouse at La Coubre and enjoying some of the region's festivals, celebrating film, music, kites, boats and the sea!
For bookings and more information, please get in touch with us via email: [email protected] or phone: 04 74 32 74 63!
Find out all
about Azureva