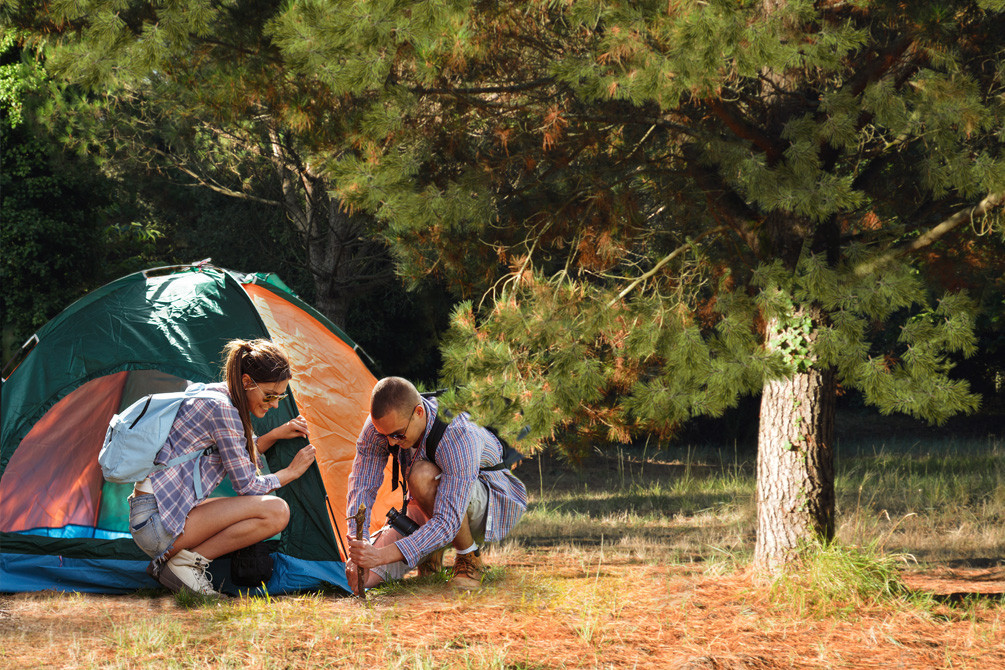 Open Air Hotel ILE D'OLERON CAMPING ***
Open Air Hotel 3 stars ILE D'OLERON CAMPING Île d'Oléron Charente-Maritime
Nature, sunshine, tranquillity and the ocean!
A quarter of an hour away from the ocean by bike, our campsite*** on the Île d'Oléron in the Charente-Maritime is ideally situated for families and those in search of nature and tranquillity. The 77 camping spaces are perfect for small or large groups, set in the tranquillity of a beautiful pine forest. The exceptional mildness of the micro-climate on the Île d'Oléron means you can make the most of the outdoors and the beautiful light of the island. On foot, by boat, and of course by bike, you will experience a holiday full of colour! Blue as the sky and the Atlantic ocean. Green as the maritime pine trees. Yellow as the mimosas. Multi-coloured, bright and vivid, like the little fishing boats, oyster shacks and artist studios. Activities are on offer throughout the day and evening for young and old alike at the 2 star île d'Oléron holiday village, like the aqua-gym by the heated pool, sports tournaments, and walks and bike rides to the fishing villages of the Île d'Oléron When the moon rises, we get together to laugh, dance, sing or play games. Family holidays at Île d'Oléron enable you to reconnect, with yourself and others!
Why choose this destination
Bike rental by the day, half-day or week
Restaurant at the Holiday Village nearby, with takeaway service
Opening dates:

From april to september
Camping
Discover the holiday village's quality labels
Family
The fun family vacation
According to the destinations
• Connecting rooms (up to 6 pers.) And catering adapted to accommodate young and old
• Baby area available
• Children's club from 3 to 17 years old (in French school holidays) with dedicated rooms
• Family activities: sports, games, creation, discovery and nature ... evenings
• Play area and library
• Bicycle rental child, adult and baby seat.
• Ideas for visits and itineraries for everyone
Party time
The animation is queen
According to the destinations
4 evenings a week: live musical entertainment, show, theme evening and catering with decor, dance party
Musical atmosphere at the bar every day
Dance Workshops, Sports Dance, Salsa, give rhythm
"Games-festive": blind test, quiz ,.
Contact list of babysitters
Participation in regional festive events
Nature
Place in the open air, opening on the terroir
According to the destinations
Villages located in the heart of a natural environment
Children's animations on the theme of nature and ecology
Excursions to discover the local flora and fauna
Routes for hiking and cycling for all
Visit farms or farms
Discovery evening of the local nature
Animations on sustainable development